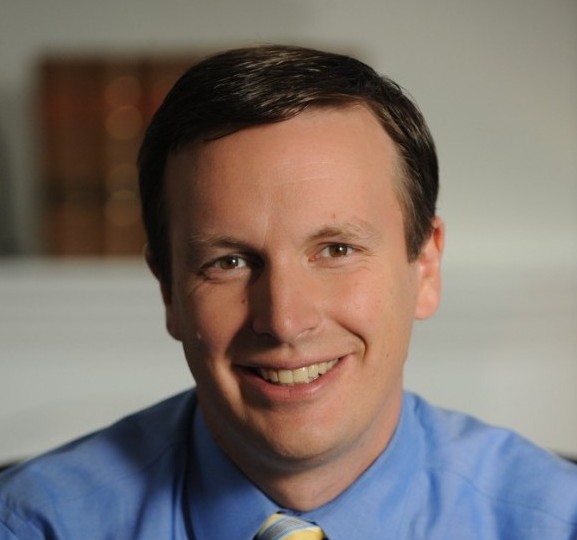 It came in the mail last Saturday: an envelope from The Southwestern Connecticut Agency on Aging. I set it aside thinking it was some document I needed to sign for the Connecticut State Respite Care Program. I've been receiving additional homecare for Mom through the program and it's a Godsend. What would I do without it? It gives me about three extra hours every Wednesday so I can simply do something for myself like go out to lunch. I've actually started living for Wednesdays and counting the days like one anticipates an exotic vacation.
Then I got a call on Monday morning from SWCAA asking if I planned to attend a roundtable discussion I was invited to with US Senator Chris Murphy at the Baldwin Center in Stratford. I did not know what she was talking about so I went back to the letter on my desk and opened it. There was a flyer announcing that the senator wanted to get imput from real life caregivers about the Caregiver's Act. How could I miss that! A chance to actually plead to a legislator: "Please stop the insanity of this system I have been struggling to navigate for years". There's just one problem– who could I get at the last minute to watch my mother? It was a classic caregiver's dilemma. Fortunately I was able to work something out with a friend who is a nurse.
When I entered the room, I was surrounded by representatives of many home health care agencies, the Alzheimer's Association, SWCAA and Volunteers from AARP. There were surprisingly few caregivers present because, what else, THEY CAN'T GET AWAY! I slipped into a seat in a back row but was invited to sit at the round table facing Senator Murphy, State Senator, Kevin Kelly and Betsy Ritter, Commissioner on Aging. Immediately, I was impressed with Murphy's grasp of the situation. Although he was a young senator, he understood the economic and social crisis our country is facing if we stay on the current course. That's why he decided to get involved with the committee that is drafting the Caregiver's Act. Most importantly, he acknowledged that family caregivers provide BILLIONS of dollars of unpaid, uncompensated healthcare. He recognized the enormous financial sacrafice made by caregivers  who lose valuable years from their career and a secure retirement. And then Murphy took the words right out of my mouth; What I'd been waiting to hear from someone in Washington for so– so long. Caregivers need to earn credits towards their Social Security. I thought to myself: "Yes, Yes, Yes! Somebody finally gets it!
When it was my turn to speak, I reaffirmed Murphy's point. I think I stunned the room when I annouced what my shockingly low Social Security pay out will be as a result of taking care of my mother for 17 years. Then I told them how I had saved the government hundreds of thousands of dollars by keeping my mother off of Medicaid, only to find myself thrown into it for my own healthcare because I "wasn't working" (Of course I'm working 24/7 at a job with no breaks!). Since the Affordable Care Act's expansion of Medicaid in the State of Connecticut, people who don't earn enough to qualify for a government subsidy cannot buy insurance but are offered "free" insurance as Husky D. This free insurance comes at a hefty price– especially if you are a caregiver. The State has the right to recover your medical costs out of your inheritance from the very person you are taking care of, your compensation for years of unpaid labor! To make matters worse, you have no idea what the final tab will be because you never get to see what's being charged to your Medicaid account and if there are any errors or fraud.
I went on to say that I resorted to taking out a reverse mortgage on the house because our property taxes were $20,000 a year. Also, It would be very difficult to sell a house that was over-acessed and had the living room set up like a hospital suite. You'd think there would be some kind of property tax break for seniors in a situation like this. After all, keeping Alzheimer's patients in their homes is more cost effective than, as Murphy pointed out, the 1950's model of institutionalizing patients in nursing homes. I explained how, in my situation, I could not even take advantage of the Caregiver Exception Rule and transfer the house into my name after providing at least two years of care to my mother because of the reverse mortgage. I said, that the system amounts to "Caregiver Abuse" and trys to bleed a carrot dry instead of compensating them for a valuable service.
(People often wonder how I got into this legal/financial mess. I paid good money to an elder care attorney for not so good advice. When we tried to transfer the house out of Mom's name ten years ago, I was told not to because I qualified for the "Caregiver Exception Rule" and, if I needed health care services for Mom before the five year look back period had ended, I would be slapped with a penalty. That penalty now seems paltry in comparison to the price I've paid since, sitting on the house with the reverse mortgage I was advised to do by the same attorney. My question is: Why is there a lookback period that keeps growing ever longer? Why are there penalties? Why do we have to hire eldercare attorneys? It's not like my mother or I committed any crime  so why do we have to spend so much money on lawyers for this disease vs cancer or heart disease? Isn't that a form of discrimination? THE CAREGIVER IS NOT THE ENEMY!!! We are the ally of  this healthcare system. We shouldn't have to walk through a booby-trapped mine field of ridiculous laws designed to make it financially impossible to care for your parent or loved one at home.)
In the end, I concluded my position that it's really a matter of the system spending "dumb money" vs "smart money". The cost of staying in your home is so much cheaper than spending down all of your assets so you can end up in a nursing home. As the round table meeting came to a close, my fiancé chimed in from the back row of a not so small detail I forgot to mention: Mom's diapers and supples cost over $600 a month and are not covered by Medicare. Senator Kelly suggested that perhaps there could be a tax credit for that but Jim reminded him that you need enough income for a tax credit to mean anything.
I came away with a sense that Senator Chris Murphy will champion this most important cause in Washington. I wanted to sing Haaleujah!– although I know there's a long road ahead and most of Congress is probably impervious to the suffering caused by this issue from their archaic laws. I also wonder if there Caregiver Act will pass too late to even help me? Would I ever get Social Security credit for seventeen years of caregiving retroactively? What if my Medicaid takes what's left of my inheritance for healthcare costs only to cease doing so to caregivers in the future? I feel an urgent race against the clock as Mom is in her third year of hospice at home. Despite all these concerns I felt a blessed since of relief on Tuesday. My cries for help were finally heard, just like a helicopter spotting S.O.S rocks on a dessert island. So for me, I felt Thanksgiving came two days early this year.