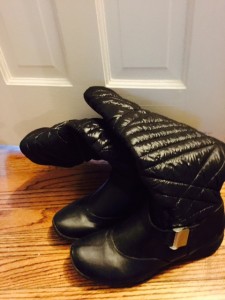 I have a tendency to save things. Not on the verge of hoarding in any sense, mostly letting my closets poles get too jammed. I know the rules:  For every two new things that come into the house, something old must go—but old things have memories of people, places and times in our lives. I also know that once a loved one is gone, almost every possession of theirs can take on an emotional significance. This happened when my father died. Suddenly a checkbook register with his writing in it seemed like a resurrected sacred object and too painful to throw out. (I should point out that his last entry was dated the day before he died.) It was 8 years before I could bring his suits to Goodwill. I finally realized I needed his hallowed closet for my fiancé who was moving in. Life evolves whether we are ready or not.
I found myself in just such a tug of war yesterday. Winter is here along with the first serious storm. It was time to dig out my heavy duty snow boots. And there they were… Mom's snow boots. She hasn't walked in two and a half years and never will again. (If you are new to this blog— she broke her hip and is bedridden, in hospice at home with me.) A flood of memories came back. These boots weren't that old. In fact, it was in 2011 that I realized her feet had suddenly changed sized and all of the shoes in her closet were one size too small. Out they went and for some reason that was easy. Then winter came and I realized I could not safely get Mom to walk through a parking lot without a new pair of boots. Easier said than done. It mid February  I combed the mall looking for snow boots that would fit Mom. Everywhere we went they were selling sandals and espadrilles for the spring season. Meanwhile Mom was taking mincing little steps, already fearful of her own ability to balance herself. Something told me at that time any boots we could find were going to get very little use. Just when I thought we'd have to throw in the towel, a perfect pair turned up and I grabbed them for her.
So what do I do with these? She's can't wear them. They're not like baby booties you dip in bronze. It was time for them to go, symbolically. It was a right of passage I have to start taking. If I wait until after she dies, it will be even harder to throw them out. It was a beginning of a process– all her clothing items I would have to let go. So I walked out to the garbage can and threw them away. I came back in the house and checked on her in bed and gave her a kiss on the forehead. Then I found myself in the garage again, opening the lid and looking at the boots once more for the last time. Why does this feel so final? Why does this even seem almost disrespectful? So I brought the boots back in again… "Stop this Alison, this is insane! It's OK to say goodbye to her last pair of boots." After all, she's still here.
She's still here… and I have to learn to treasure those moments and not her foot wear. I brought the boots back out to the trash and snapped a photo as I said goodbye. As silly as that sounds, it gave me closure.